'80s Fantasy Movies You MUST See
September 27, 2021 | By: Blaize
The '80s were almost a golden era for fantasy movies, but despite all the films we got during the decade, none of them delivered something truly revolutionary or remembered as an outstanding movie. For many, the 80's fantasy movies are epitomized by Conan the Barbarian and its clone, The Beastmaster. Both were a mess and did little to advance the fantasy genre. They were gritty movies with wooden acting from shirtless, sword-wielding men and scantily-clad women. There wasn't much to like. Beyond that, there were retellings of existing legends with Excalibur and Clash of the Titans. Excalibur was decent, but it felt like it was playing it safe while capitalizing on existing lore. Similarly, Clash of the Titans felt the same way, leveraging Greek mythology and effects reminiscent of Jason and the Argonauts with its heavy use of stop-motion animation.
While most of these movies did okay, none delivered something epic enough to prove that fantasy could be a viable genre. Not until Peter Jackson's Lord of the Rings trilogy did we get to experience that. Still, there are a few gems among these movies that moved the fantasy genre forward in a way that other films failed to do. Here are four that I think, for better or worse, shaped the fantasy genre during the decade.
Krull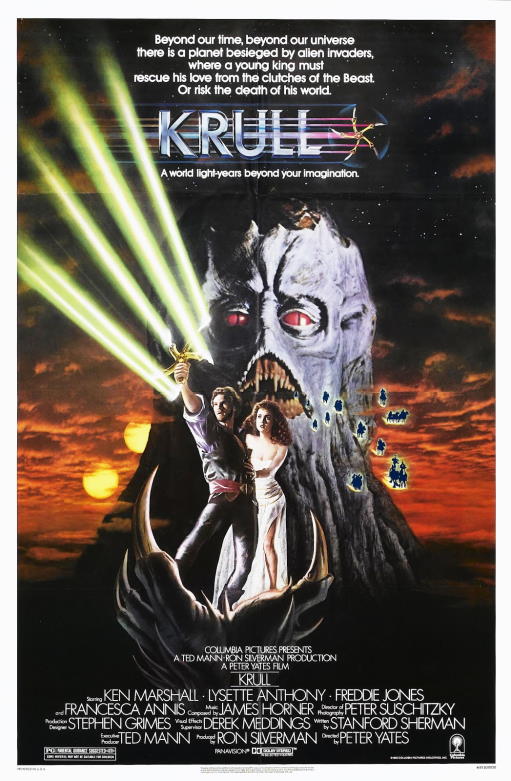 Krull is a movie that people love to hate for a good reason: it's horrible. The acting is terrible, the plot makes no sense, the effects are cheesy, the score is silly, and the whole movie is a mess from beginning to end. You may be wondering, why in the world would I suggest this movie if it's so bad? Krull, for all its faults, attempted to create an epic fantasy film with worldbuilding that feels expansive, immersive, and as much a part of the story as the acting and plot. The film uses elaborate sets, on-location shots, and extensive makeup that do deliver the world to some extent. And once you see Krull, you don't forget it. My favorites are the glaive (a 5-bladed ninja star), the stop motion animation for a giant spider, and the cyclops. It's unique, grand, and admittedly fun. It's certainly one-of-a-kind, and at least attempted to deliver epic fantasy even if it did so in a way that crashed and burned. Still, folks love it anyways, and it has become a cult classic in the eyes of many fans.
Legend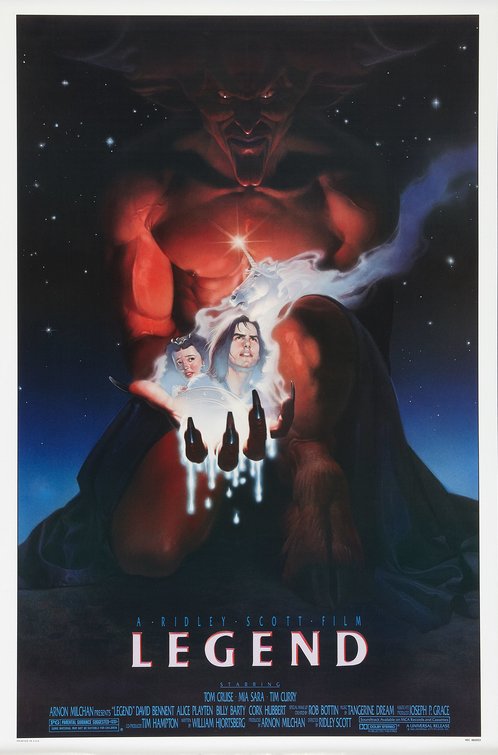 Legend is a different kind of fantasy film from Conan, Beastmaster, or Krull. I love this movie because it's a visual masterpiece, delivering a truly magical experience from beginning to end. Perhaps the most iconic imagery from this film is Tim Curry's Darkness. He combines his sinister stage presence, baritone voice, and epic costume to create the devil himself. Add that to a film entirely shot in a studio with massive sets and its epic score. You get a convincing and artistic fairytale world that feels like a character itself. Other than Tim Curry's performance, the acting is okay, and the plot is thin. There's a lot of debate among fans of the movie whether you should watch it with the original Jerry Goldsmith score or the score from theatrical release from the New Age group, Tangerine Dream. I like both for different reasons, but even so, if you love the artistry in filmmaking, this one delivers a beautiful fantasy film that feels like a masterpiece painting in motion.
Willow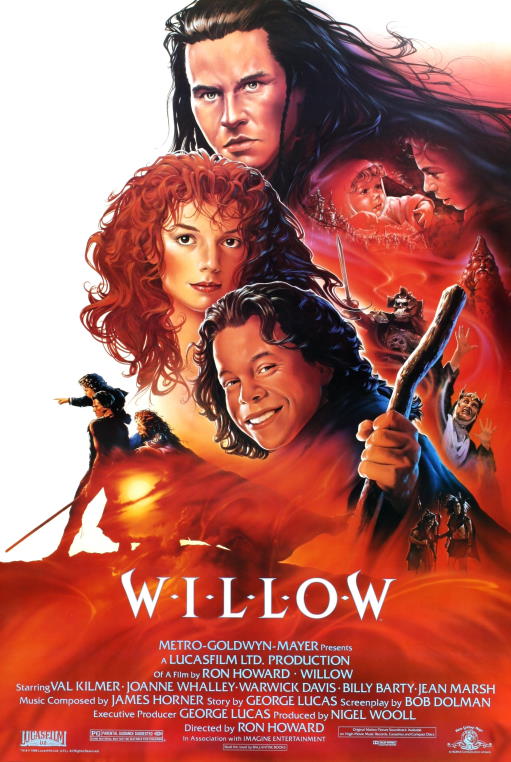 Willow did what Krull failed to deliver – we FINALLY got a good epic fantasy. While I think of Willow as good, it's got its fair share of problems. First, it tries to pack every possible fantasy trope into a single film. It has the orphan, the prophecy, the chosen one, the reluctant hero, the antihero, the fiery redhead female warrior, the dark lord, the wise old mentor, and many others. (It's George Lucas! What do you expect?) Perhaps when this film launched, these tropes weren't so tropey. Second, Willow wanted to be epic, but the direction lacked an epic vision. Ron Howard is a great character director, but I think the movie artistry suffered. That aside, Willow still manages to create a world that feels as expansive and immersive as worlds you'd expect to find in novel counterparts. Willow used cinematic shots of beautiful landscapes to capture this. The effects, while not amazing, do contribute to this feel for sure. Also, Willow was one of the first films to use CGI convincingly, which still holds up relatively well. CGI nowadays is commonplace, and it makes us yearn for the simpler days of practical effects, but at that time, it was groundbreaking. In addition to the cinematography, Willow gives some remarkable performances from Warwick Davis as the titular character and Val Kilmer in a role that gives him latitude to act like he did the The Doors rather than just being a pretty face in movies like Top Gun and Batman. The chemistry between Davis and Kilmer gives this movie its charm. In short, this film's charm combined with its cinematic worldbuilding delivers an epic fantasy that did not have an equal to at least Lord of the Rings.
The Princess Bride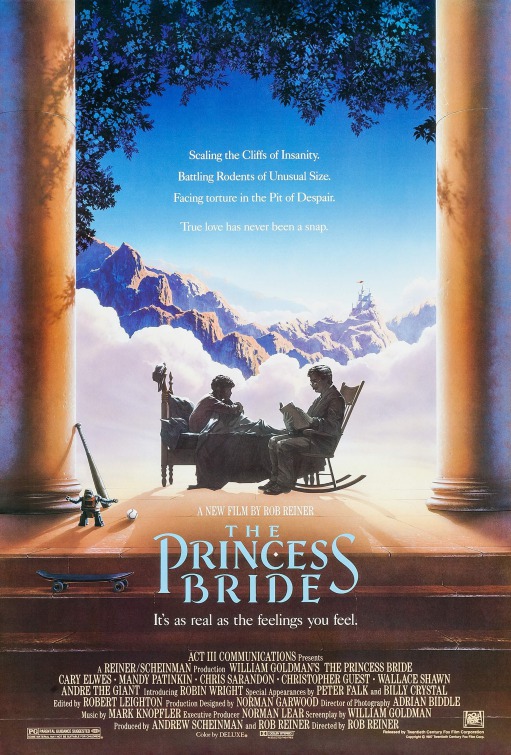 The Princess Bride is my absolute favorite movie of all time. What I appreciate about this movie is its pure simplicity that manages to pull off something epic. The Princess Bride strips away the special effects, the lavish sets, the cinematic score, and the breathtaking scenery to focus on storytelling through the lens of characters. Every performance in this film is brilliant, but the two that stand out are Billy Crystal's Miracle Max and Andre the Giant's Fezik. Billy Crystal delivers an almost perfect performance with his comedic delivery and sharp wit. Andre's Fezik is simple and warm–there's nothing not to love about him. Mixing all the performances with quotable dialog makes this movie purely magical. Who doesn't remember "Inconceivable!" "As you wish," or "Hello. My name is Inigo Montoya. You killed my father. Prepare to Die." Beyond that, this movie is almost satire and almost a parody of the fairytale genre in general. It subtly pokes at the fairytale without going overboard in the vein of Mel Brooks films. It's lighthearted, fun, whimsical, and perfect in almost every way. The Princess Bride proved you can make a fantasy movie without the need for all of nonessentials.
As the decade wound down, so did the fantasy genre. There were a few fantasy movies in the '90s, but nothing memorable or groundbreaking. We wouldn't get that until Lord of the Rings in 2001. I distinctly remember sitting in the theatre and seeing the teaser trailer for LoTR and getting excited about what could be delivered. It did not disappoint. Still, without some of those earlier attempts, I don't think we would have gotten LoTR or appreciated it as much. Fantasy is almost a mainstay now with television series like Game of Thrones, The Witcher, and several other less memorable ones that have either come or gone. But I hope that the best days of fantasy cinematically are before us, not behind us.
---